| | |
| --- | --- |
| Posted by J. Menaq on March 18, 2015 at 10:15 AM | |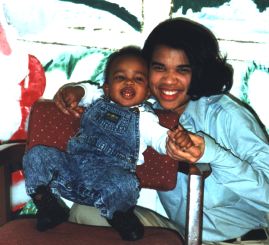 Kemba Smith and her Son while incarcerated. 
Trap Queens Falling from the Throne
By Jeff Menzise, Ph.D.
For all my "Trap Queens" out there, you are being set up. Set up for what? Set up to spend the rest of your life in prison. Set up to indirectly get high and addicted to the drugs, the life, the abuse, and the drama that comes along with the trap. The use of the word "queen" in this title is a trick to get you proud to be on some shit. It's designed to make you feel honored to play a part in the destruction of your community, the poisoning of people's mothers, fathers, sisters and brothers. They put it to a beat so you can sing along and to ensure that the idea is deeply embedded in your mind, subconsciously. Dudes singing voice is also a part of the strategy. It souds almost robotic, off key, raspy, thuggish, maybe even grimy...not to mention his eye being damaged.
I assume that most of you do not know the story of Kemba Smith. I remember her fondly because her parents were invited to visit Fisk University several times under the invitation of Dr. Ray Winbush and the Race Relations Insitute. At this time, she was still incarcerated and they were fighting to get her out. At 24 years young, Kemba faced 24 and a half years for having a boyfriend who was selling dope. He was killed so they had no one else to pin the charges on...oh yeah, she was like 7 months pregnant too.
"I did not traffic in drugs, but I knew my boyfriend did. I knew that while living with him that he did not have a job and we were living off of the proceeds of his drug crimes. I never claimed total innocence and this is the reason why I pled guilty," testified Kemba before the Inter American Commission on Human Rights in 2006.
It's long past time to start calling this shit out...We should not be comfortable with music that celebrates dudes teaching girls how to cook cocaine into crack, girls who are willing to carry the drugs for dudes, and songs that celebrate the wholesale destruction of our communities. It's pure insanity. But the beats are phat right? See that as cheese on the trap.